Drag and drop video / audio file here.
Accepts .mp4, .mov, .avi, .wmv, .flv, .3gp, .wav, .aif, .mp3
Files will be securely deleted after search.
Introducing AudioSearch v3
Using songs to find more songs
2 Easy Ways To Use AudioSearch

Drag and drop your audio file into the AudioSearch box
* We accept all common media files (MP3, WAV, AIFF, MP4, WMV, FLV, H.264 MOV) that are less than 100MB.
Here are some sample files for you to try AudioSearch.
Sample Files

Click on the AudioSearch Button to find a similar tune
Have you encountered clients telling you to find a song "that sounds similar to this"?
Have you ever needed to find another similar song to use because you have used that song already?
Or have you ever wished there is a VisualSearch for music?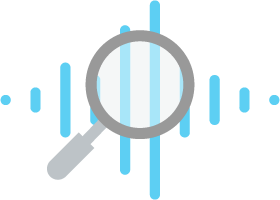 Now with AudioSearch, you can worry less about finding the right piece of music and concentrate on making that perfect video for your clients and yourself.

Search for Music without knowing any musical keywords

Search through our 500,000+ tracks in a breeze

Peace of mind with filtering of P.R.O. & Non-P.R.O. registered tracks
I like how AudioSearch recognise instruments, especially for piano tracks. I was able to find the music I needed successfully. I definitely think it will be easy to use and useful for your customers.

Florian Godard, a partner at Creative Medias
I tried this feature and it works really well. It's just awesome how quickly it analyses the content and then comes up with relevant results.

Internationally acclaimed video artist Tamas Boscorelli
I think AudioSearch is a very useful way of searching for tracks, especially for video creators.

Kazuhito Takeuchi of Japan's highly regarded

Ligar Music Library